Can Tho Rice Noodle Factory with a tradition of more than 44 years old. This is an interesting feature for visitors to explore the beauty of Can Tho. Especially this place is located right on the way to visit Cai Rang floating market. It is very convenient to visit when traveling by motorboat or boat. Let's learn about its features with What's in the Mekong Delta!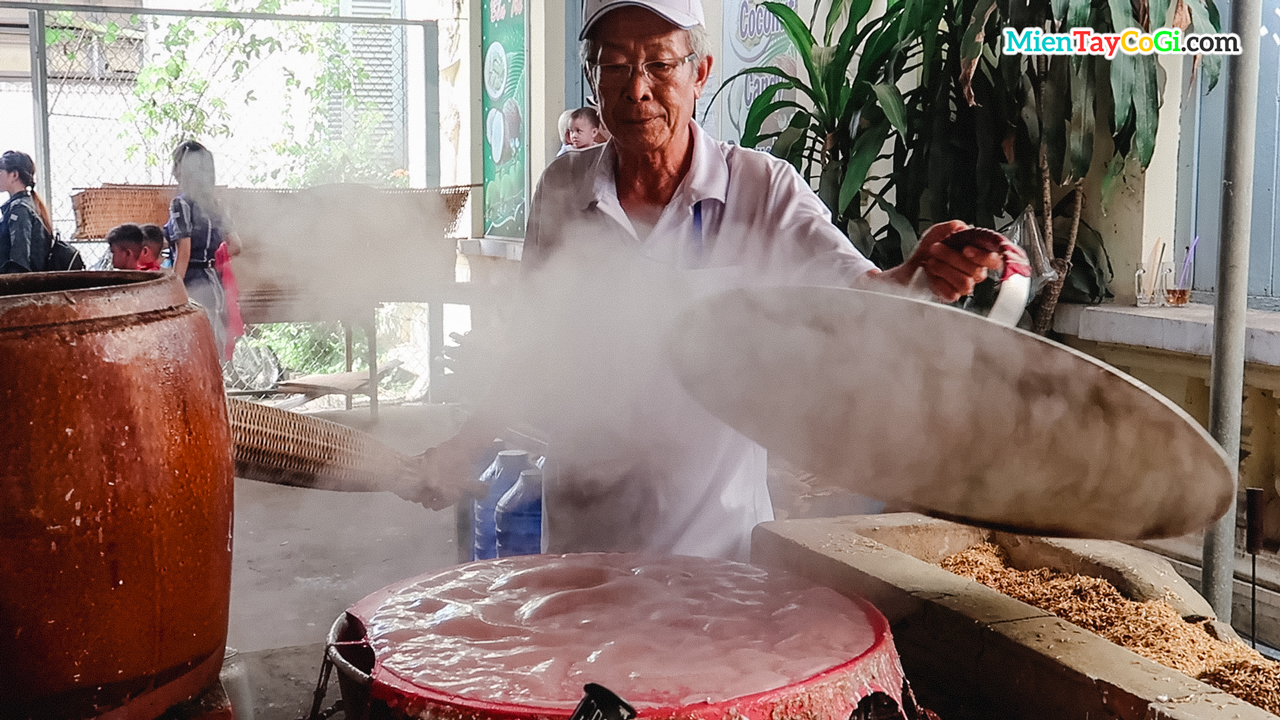 What's in Can Tho Rice Noodle Factory?
Can Tho traditional rice noodle shop with 44 years old. In addition to the strange and unique Rice Noodle Pizza, you can also explore and experience the traditional rice noodle making process here. In addition, you can buy many specialty gifts of Can Tho to bring home.
Unique with Rice Noodle Pizza
Rice Noodle Pizza is the name of a strange dish combining Vietnamese tradition and Italian pizza. This dish from 5 years ago had a famous trending in Can Tho. It appears dense in various newspapers writing about Rice Noodle Pizza
Rice noodle are deep fried in hot oil pan. After that, put a layer of peanuts or sesame in the sauce, chili sauce for example. If more sophisticated, you can add fried eggs, meat, boiled shrimp, onions, dried garlic, …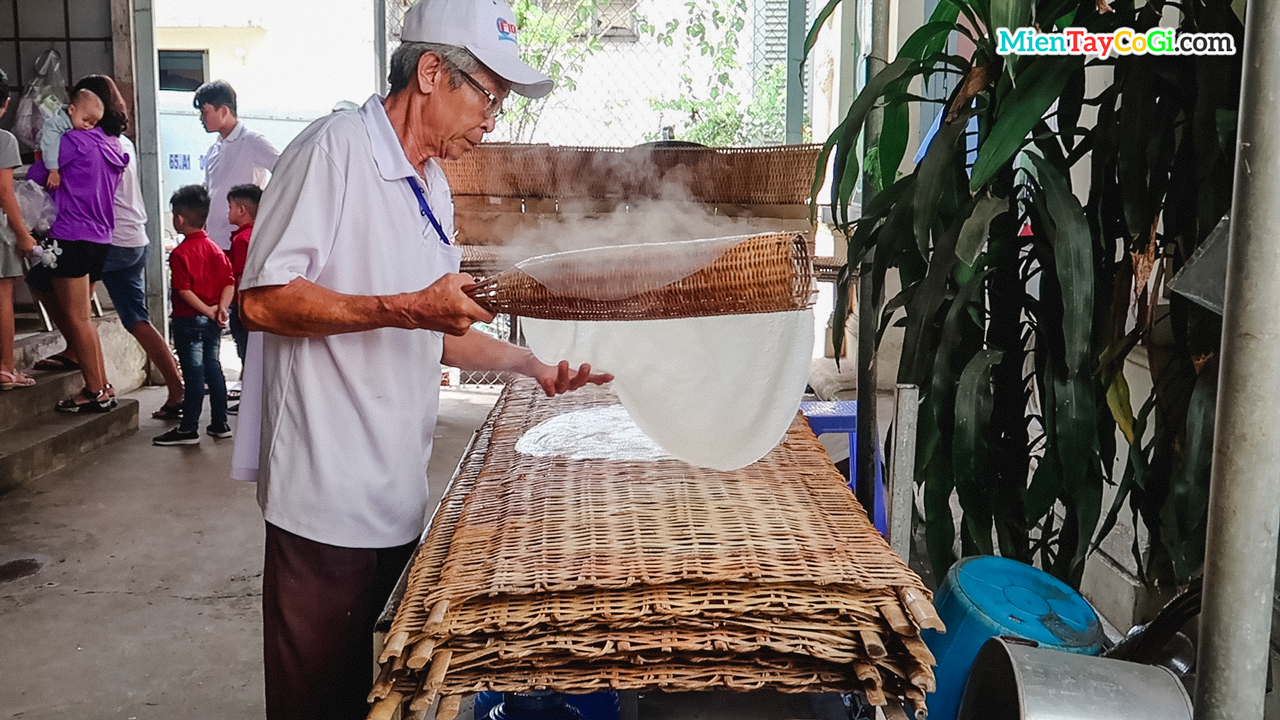 Especially if you like it you can buy ingredients for self-frying. And then add the ingredients you like. Surely you will have a strange and interesting meal.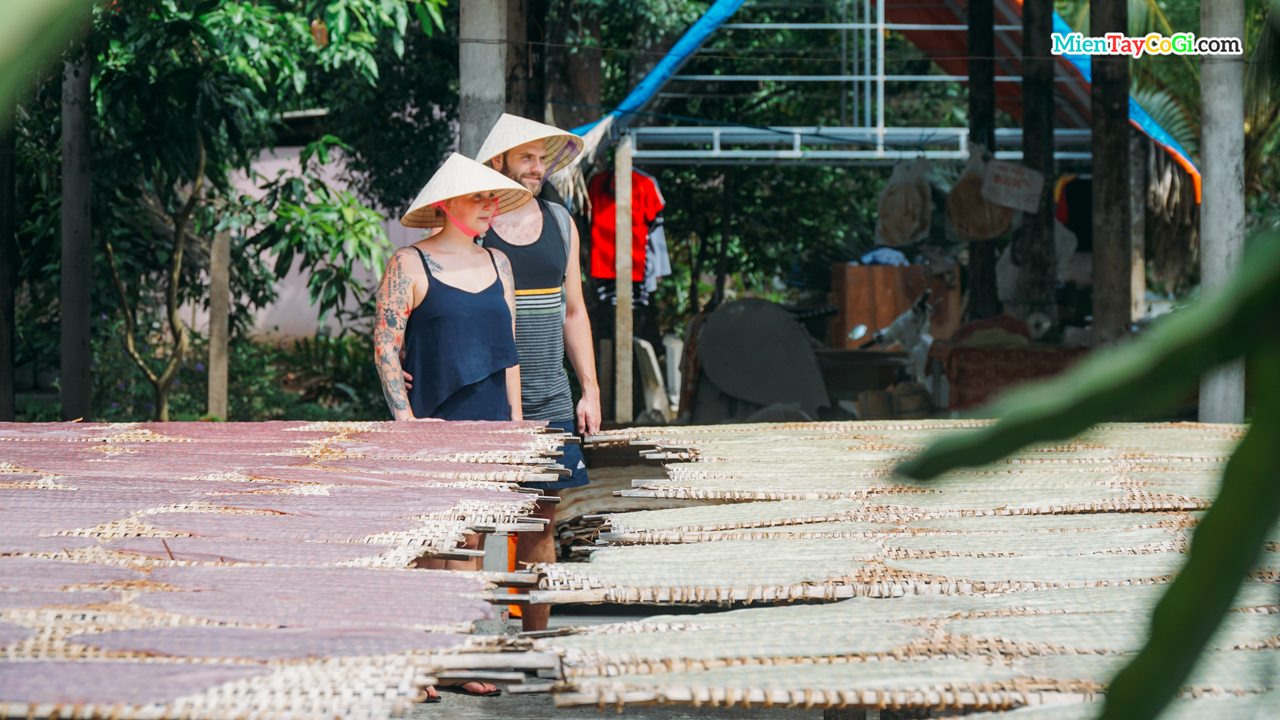 Learn about 44 years of traditional noodle making process
A tradition has been more than 44 years, that is formed around 1975. It is associated with Mr. Hai, the owner and also a skilled craftsman in Can Tho. A rice noodle stove is about twice as old as me. Surely it will be many interesting things for us to learn.
Firstly, the steps to produce traditional noodles here:
The first step is to use the husk to heat the furnace.
Then use a layer of rice flour to make a thin layer. After about 20 seconds, the finished product is a layer of cooked flour.
Next lay the thin layer on the wooden shelf and let it dry for a while.
After the dough has hardened, place it on the chopper, cut the dough into noodles as we eat it.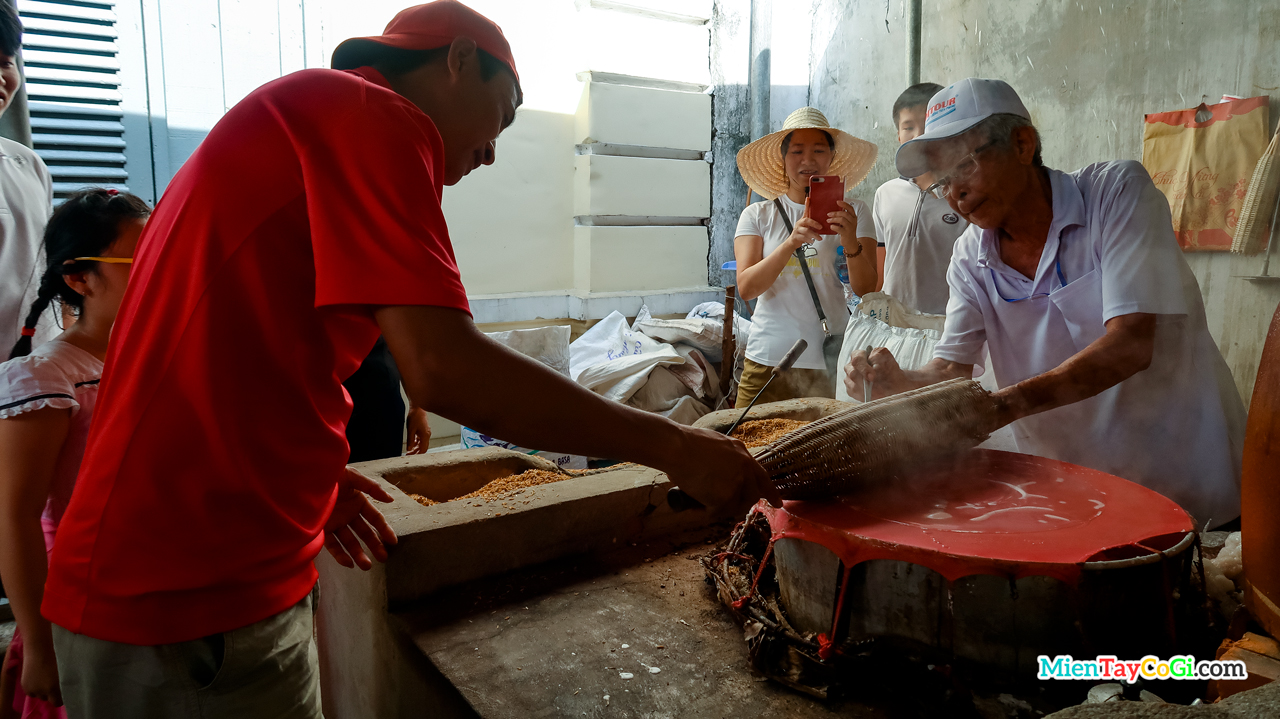 That looks simple. But really we need quite a lot of technique and patience when making noodles here. Mr. Hai has to work 10-12 hours every day to produce rice noodle. The surroundings are a fairly hot fire. He joked, "I don't need to go to the sauna to do anything, I am next to the fire every day."
When visiting, you will be able to try making rice noodle yourself and bring a piece of cooked cake on the drying rack. It seems like it is quite simple, but not everyone can perfect it. Many have failed and wrinkled the circular structure of the crust.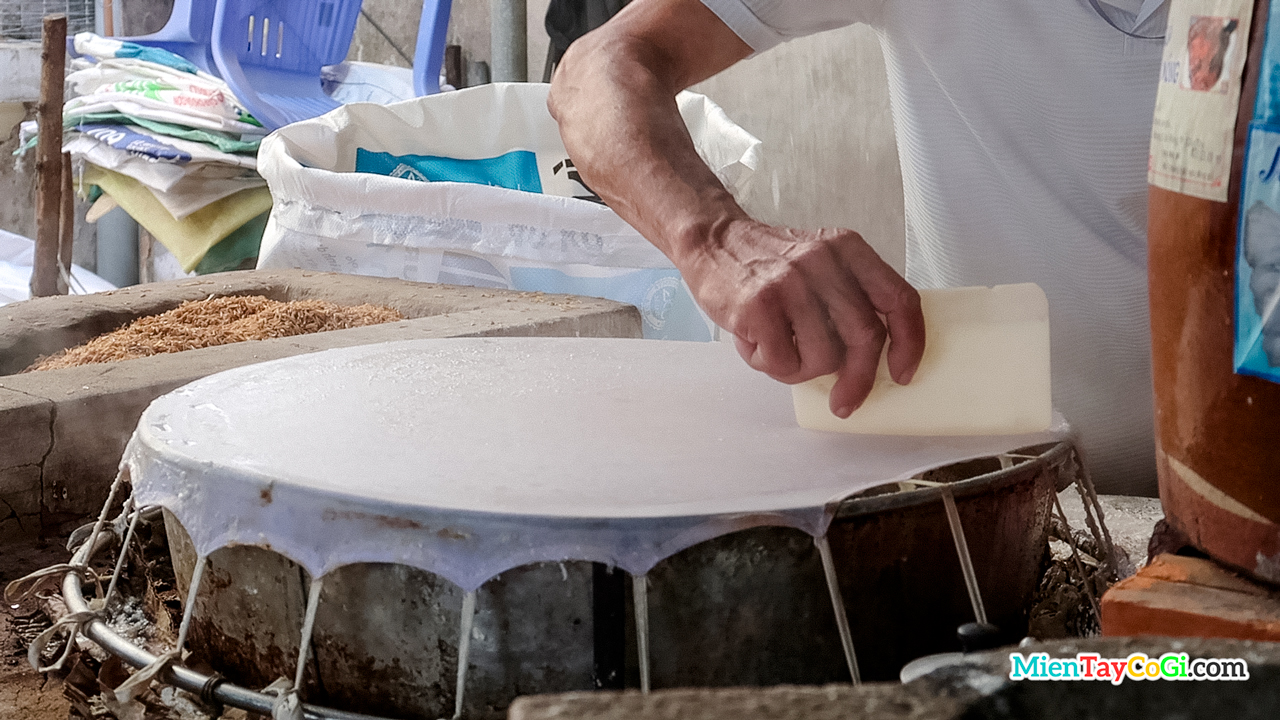 Various souvenir stalls
Surely with many people traveling from the Central or the North are quite interested in buying souvenirs to bring home. In addition to fresh noodles of all kinds from green noodles of pandan leaves, red of momordica cochinchinensis to white of rice flour. Then the souvenir shop with all kinds of strange cakes and wine everywhere in the West will make you satisfied.
Suggestions for you are dry "long-legged dancers" (Dry small frog) are considered quite delicious and unique specialties as gifts. Frying or baking and then sipping with a few glasses of wine is great.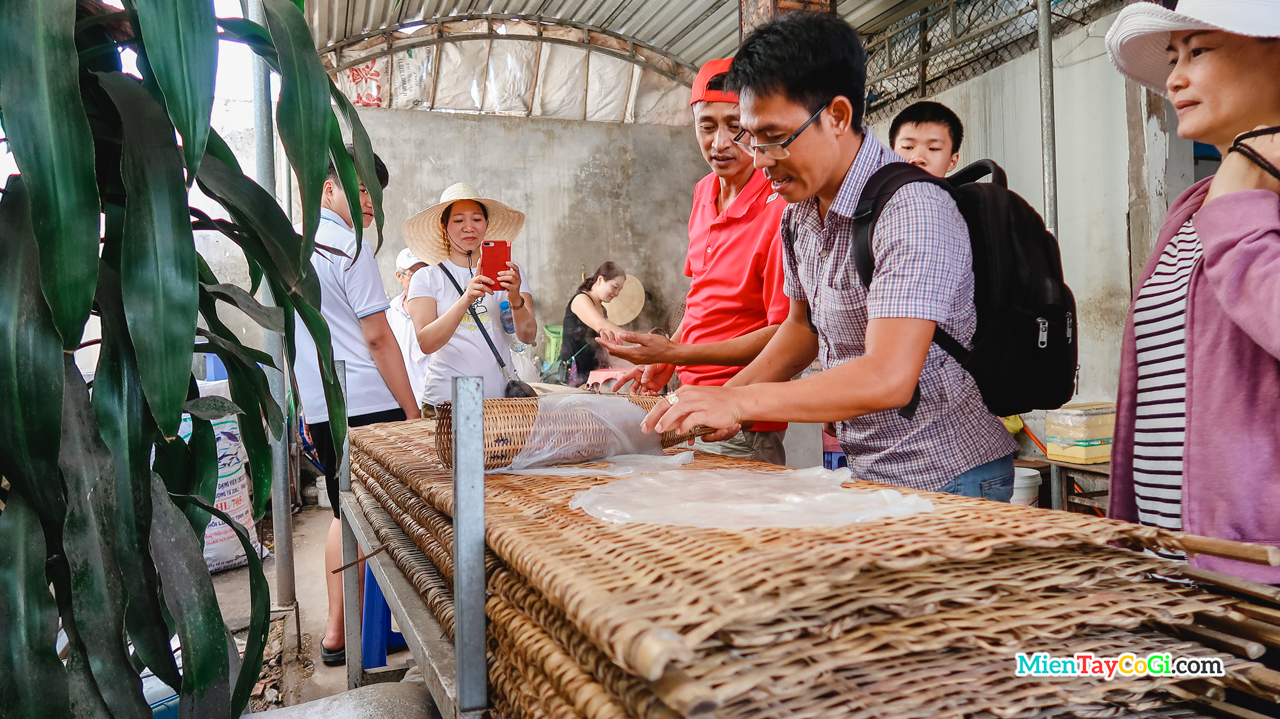 How to go to Rice noodle Factory My Can Tho hometown
Rice noodle Factory My Can Tho hometown quite near the Cai Rang floating market. There are 2 ways to get here by road or waterway.
If you rent a boat or go on a tour, just ask the driver to stop at the Rice noodle Factory My Can Tho hometown. Usually the cost will not add up because it is located on the way back. Just turn into a canal a few hundred meters away.
If you go by road can drive over Cai Rang Bridge, turn down Vo Tanh Street. Then go straight through Cai Rang District Tourism Center. Road to near the small Cai Rang Bridge. Refer to the traditional Google Maps of Rice noodle Factory My Can Tho hometown.
Opening hours: 5:30 – 17:00
Address: 02 Yen Ha, Le Binh, Cai Rang, Can Tho.
Learn more about visiting and reviewing Cai Rang Floating Market: Traveling Cai Rang Floating Market.
Evaluation of tourists for Rice noodle Factory My Can Tho hometown
Mr. Duy assessed 5/5: "Mainly to visit and see how people make noodles".
Dung Nguyen evaluated 4/5: "I've been here twice already, because I went in groups 2 times, so I went to Cai Rang floating market and finished the boat ride here to buy gifts. This is a delicious fried rice noodle dish, which looks like 30.000 VND or 35.000 VND/ rice noodle bag, buy 10 get 1 free. Inside, they also sell all kinds of specialties ".
Nguyen Trong Do evaluated 5/5: "This is a place that produces a lot of kinds of noodles. It is a famous tourist destination of Can Tho."
Hình 10: Evaluation of tourists for Rice noodle Factory My Can Tho hometown on Google Map
Traveling Can Tho is easier with: Can Tho travel tips (Vietnamese).