May Island is a tourist area located in Tra On Vinh Long and is quite close to Can Tho city (About 25km). This is an interesting garden attraction with fruit gardens and many folk games. You can take a boat from Ninh Kieu wharf to move here. This promise will be an interesting place for tourists in Vinh Long and Can Tho. Let's get to know from A-Z about the interesting things of the May Island with What's in Mekong Delta!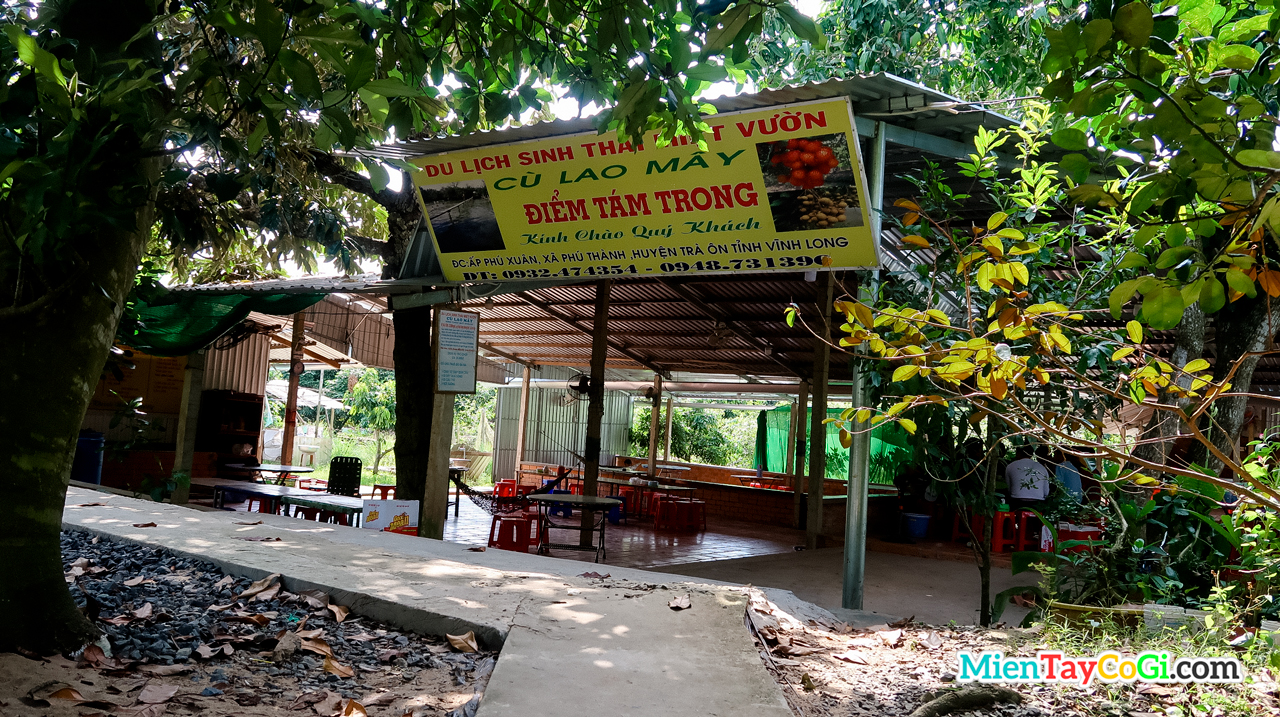 What is available in May Tourist area?
This place has become a tourist destination for about 3-5 years. It mainly attracts tourists from Can Tho to come here to play mainly. However, the tourism activity here is not too developed.
The landscape of the orchard
Fruit orchards, fish rafts and animal husbandry are the main economic activities of the islet up to now. Only about 3-5 households start to open the orchard to welcome visitors.
Hình 2: Fruit gardens and many folk games are the highlights here.
It is both an advantage and a disadvantage of fruit orchards here. Most of the orchards are natural and have more Mekong features than other resorts. However, visiting in the season will be beautiful, but inversely the season is quite rudimentary. The owner of the garden only charges money and sometimes the garden is not as beautiful as tourists expect.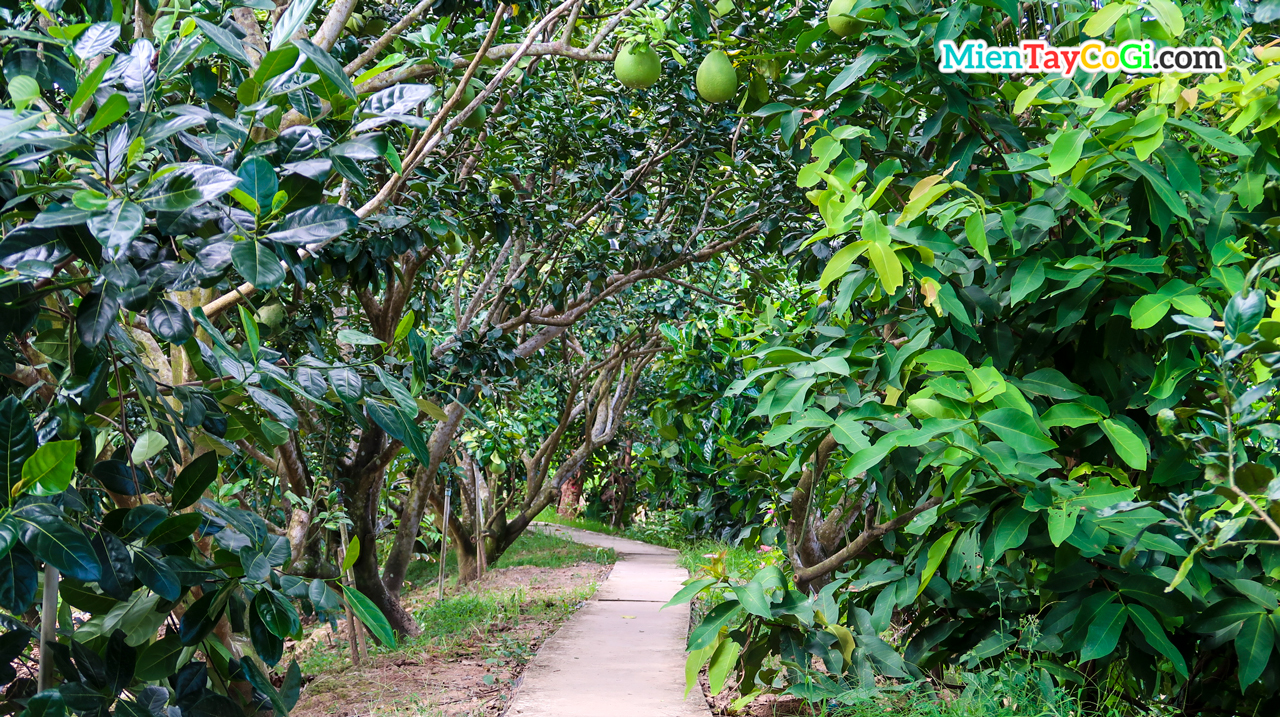 So, please note the Mekong fruits tour schedule:
April: Durian, jackfruit
August: Green grapefruit, milk apple.
August, September: Rambutan, longan.
November: milk apple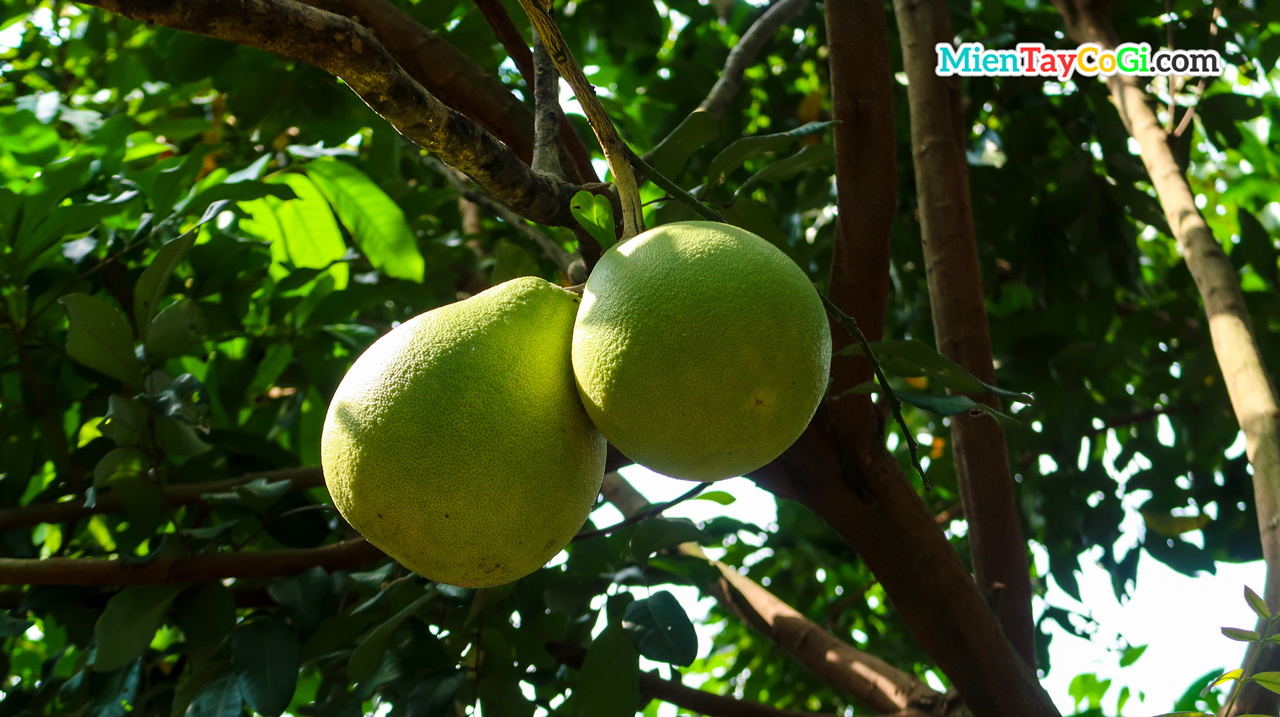 Coming here to eat fruits, visiting the garden was fun. And ordering food such as garden chicken, fish and sip the beer was even better. Drinking in the middle of the garden is cool, fun and stress free.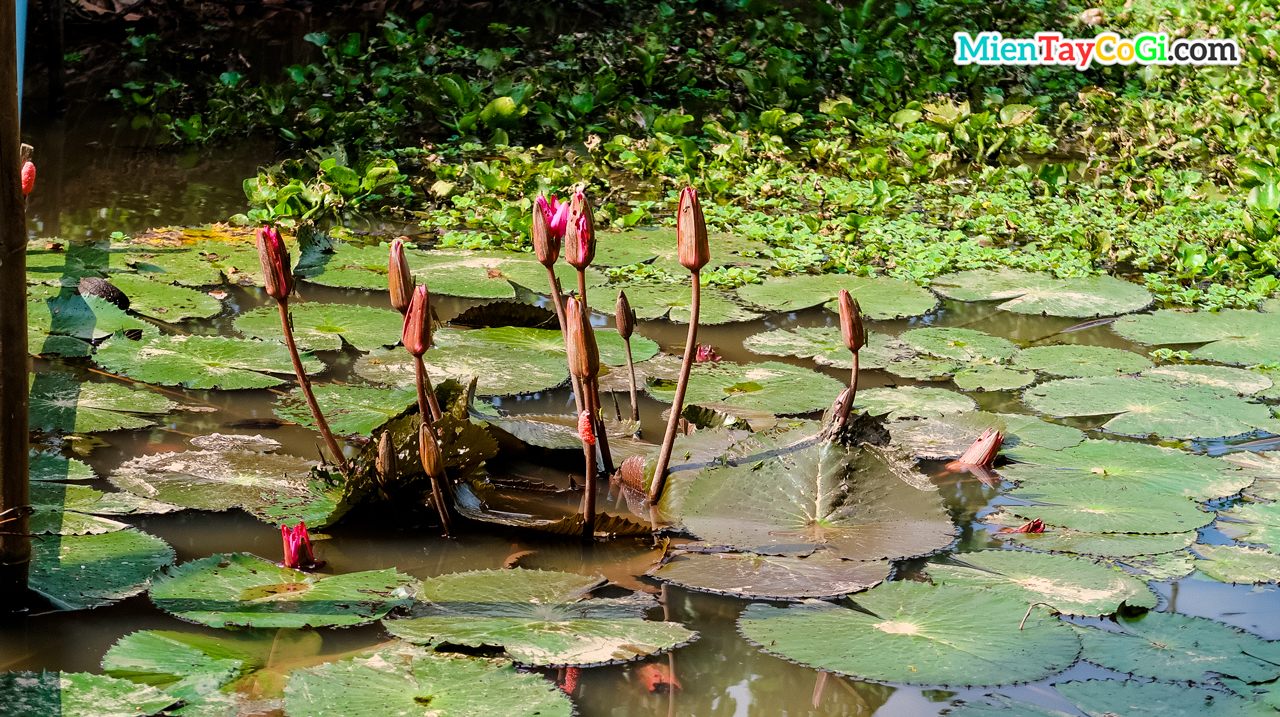 Folk games
Here is the garden owner invested in a pretty cute mini resort. Many interesting folk games such as climbing a rope bridge, cycling across the board, wooden bridge, … The simple but challenging games. Especially, the garden owner is currently building a balance board to make rain today.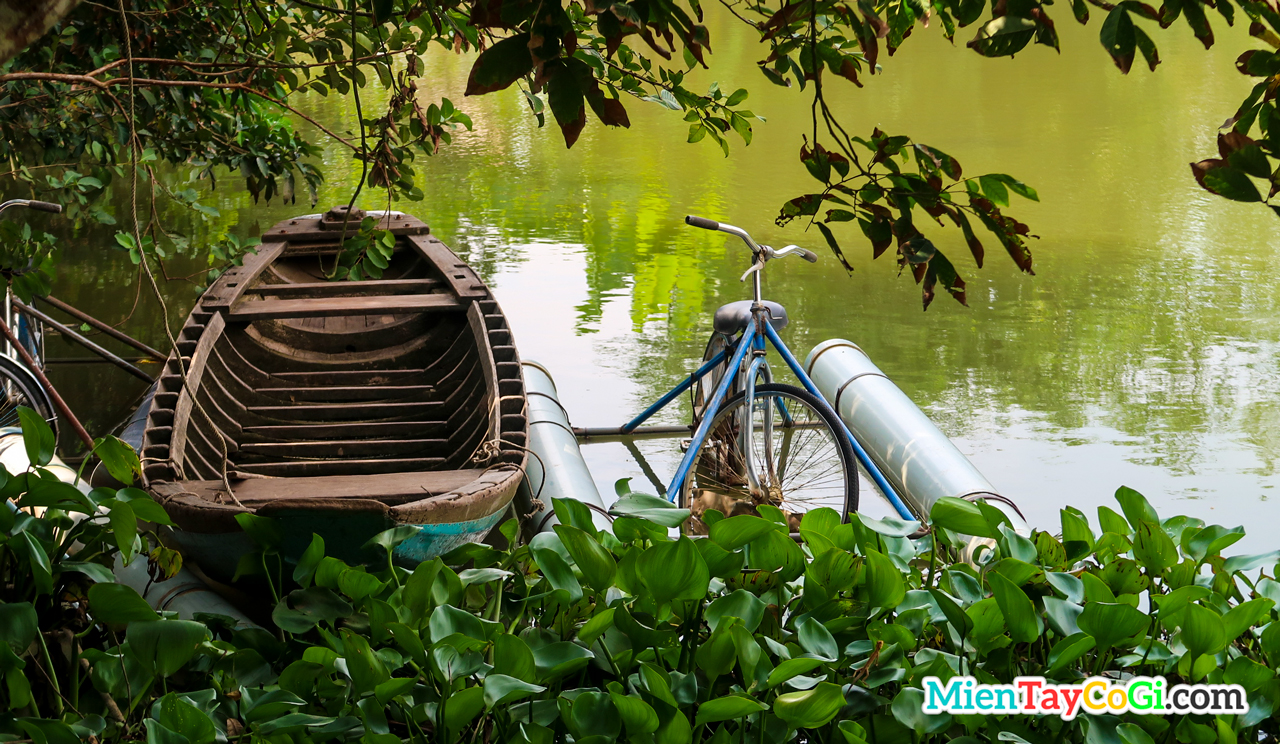 Tickets to the May island
Tickets to visit and eat here are also quite popular. Ticket price 50000 VND per person to visit fruit garden
Entrance fees
Entrance ticket (not to visit the orchard): VND 25,000 / person.
Entrance fee + visit the orchard: 50,000 VND / person (Free 1 fruit plate).
Ba Ba clothings rental: 30,000 VND / set.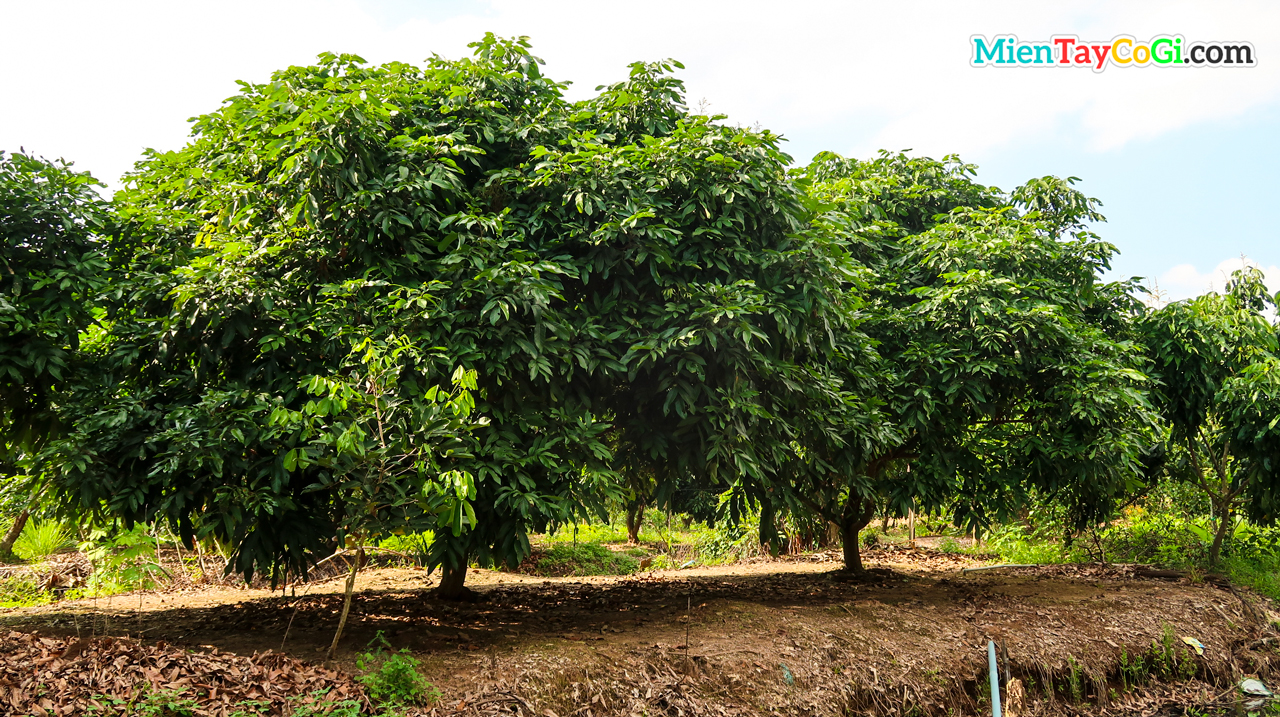 Price for eating and drinking
The following is the price list of dining at island.
Price of drinking water
Fresh water: VND 15,000 / can.
Tiger beer: VND 18,000 / can.
Green Saigon: VND 14,000 / can.
Cafe, sugar tea, mineral water: 10,000 VND / portion.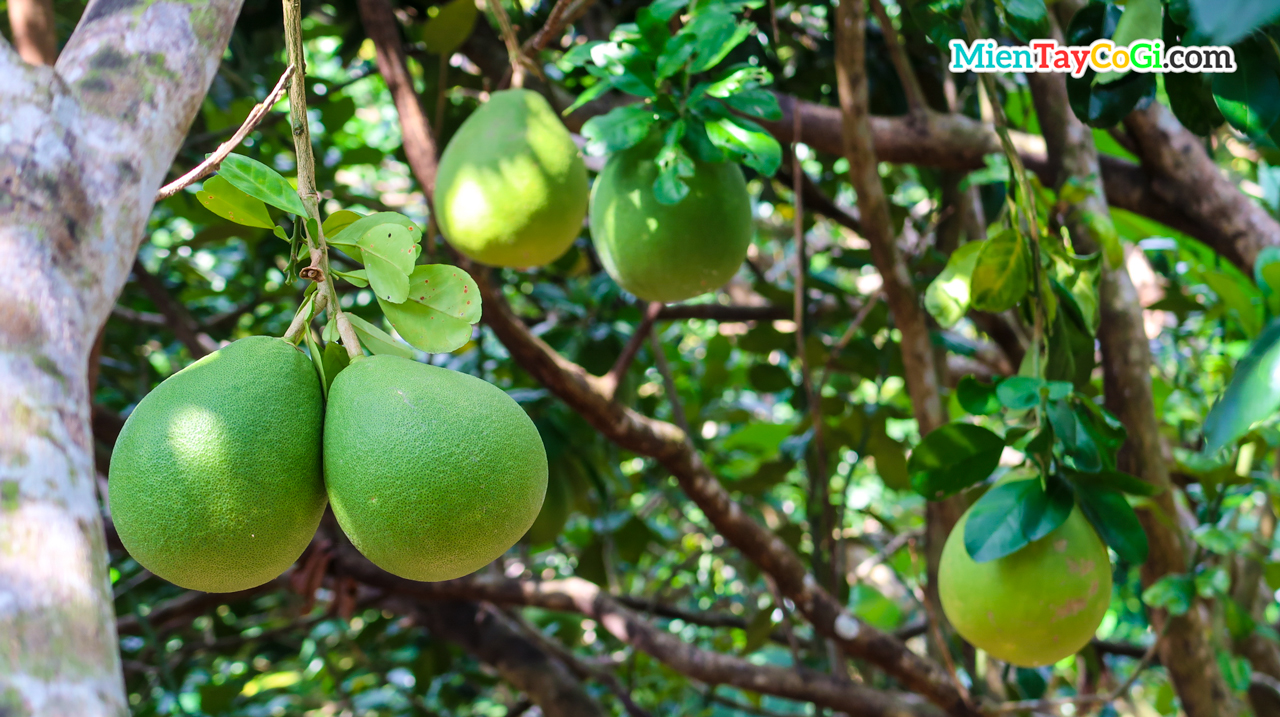 Food prices
Steamed chicken with wine, fried fish sauce, cooked porridge: 220,000 VND / kg.
Roasted chicken: 250,000 VND / kg.
Steamed snail with pepper, lemongrass, fresh baked: 50,000 VND / plate.
Deep fried gouromi, steam with soy sauce: VND 250,000 / fish.
Snakehead grilled straw fish, fried bread, sour hotpot, pepper, cook porridge: 200,000 VND / fish.
Clarias peanuts, cooked: 250,000 VND / fish.
Fresh grilled shrimp, grilled chili salt, steamed coconut water, steamed beer: VND 400,000 – VND 600,000 – VND 800,000 (depending on the type of 1,2,3) / portion.
Sauteed eel with chilli lemongrass, steam with leaf, hotpot: 250,000 VND.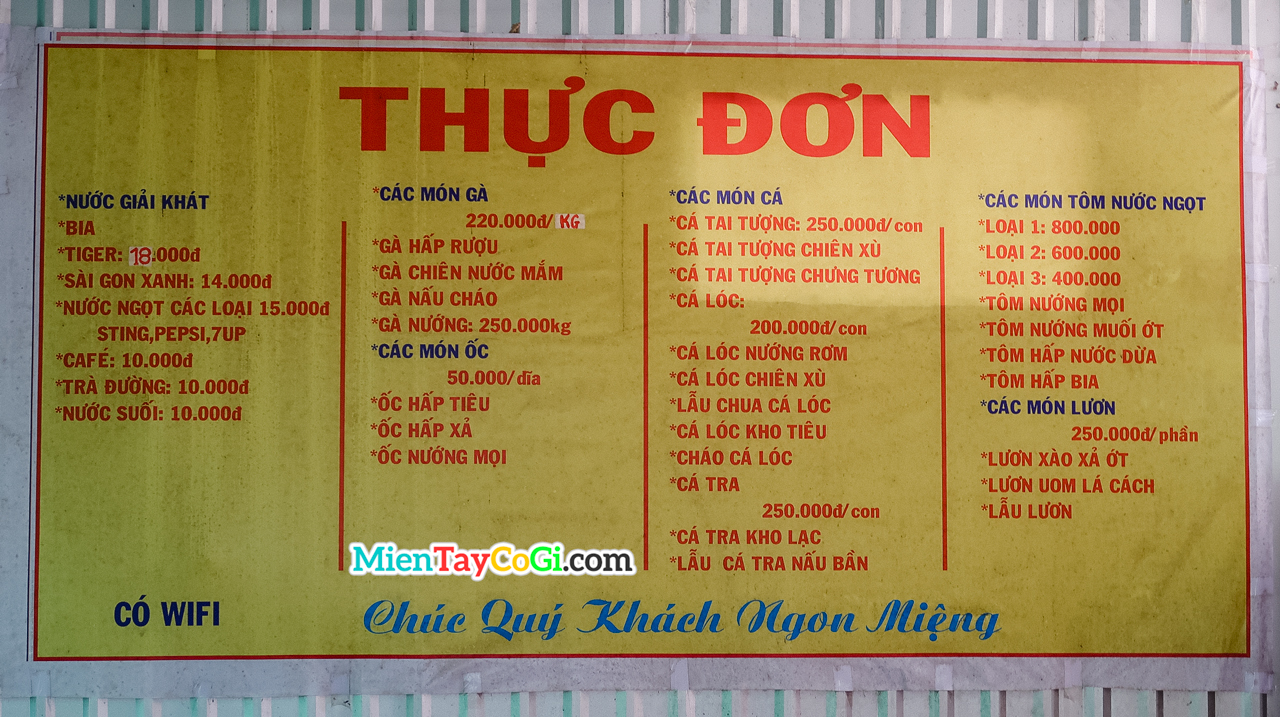 How to go to May island?
This place is located in the territory of Tra On – Vinh Long. 25km from the center of Can Tho city. You can travel by water or by road here easily. There is a ferry for motorbikes crossing the river.
Where is May Island?
This place is located in the middle of Hau river, bordering the territory of many provinces such as Hau Giang, Can Tho, Vinh Long, Soc Trang and even Tra Vinh. However, it is located in Vinh Long province and is quite close to the center of Can Tho city.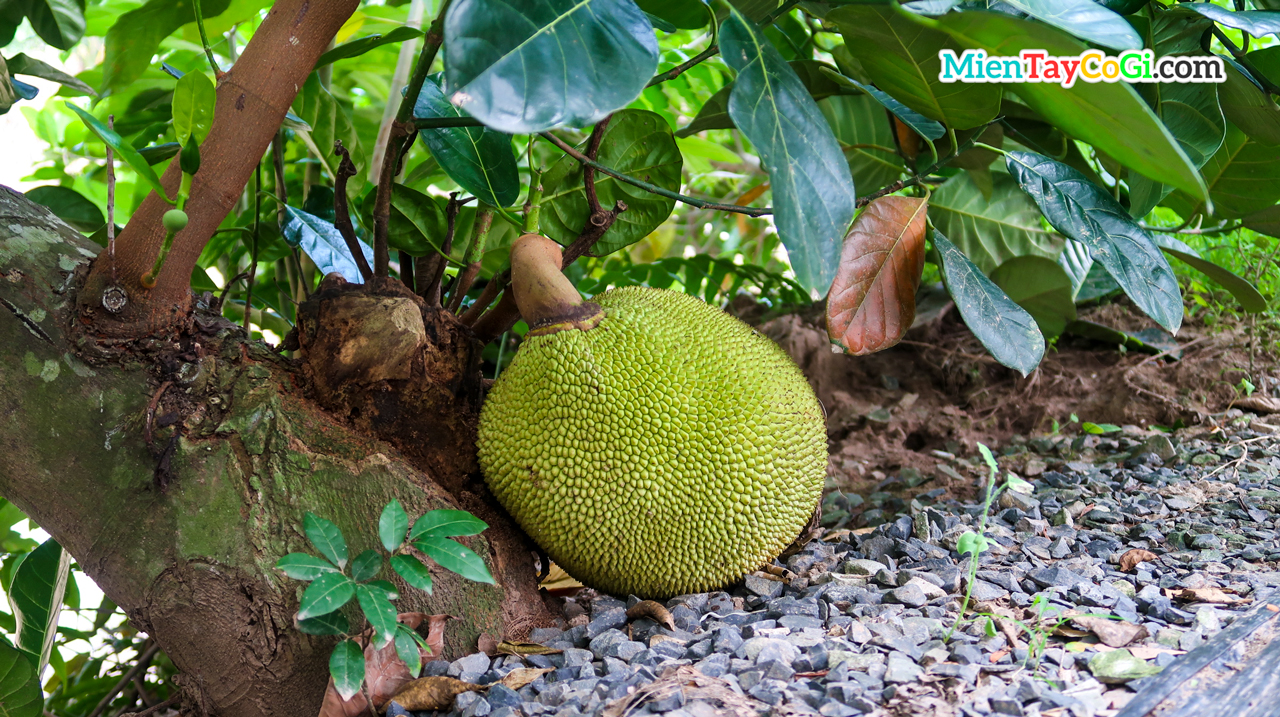 The reason is called islet because it is like a small island in the middle of Hau river. Area of about 4,000 ha with many residents settling and frequent boat trips.
See Google Maps for the way to the islet.
Address: Luc Si Thanh, Tra On, Vinh Long, Vietnam.
Go by boat from Ninh Kieu wharf
If you take a boat from Ninh Kieu wharf to May Island, it will take about 45-60 minutes. Walk along the Hau River and then some small canals full of shade. The road is quite calm, you can sing or play games on the road if you go with a lot of people.
Contact to book a boat to May island Can Tho of Mekong Smile Company with phone number: 0911838409 (Ms Thien).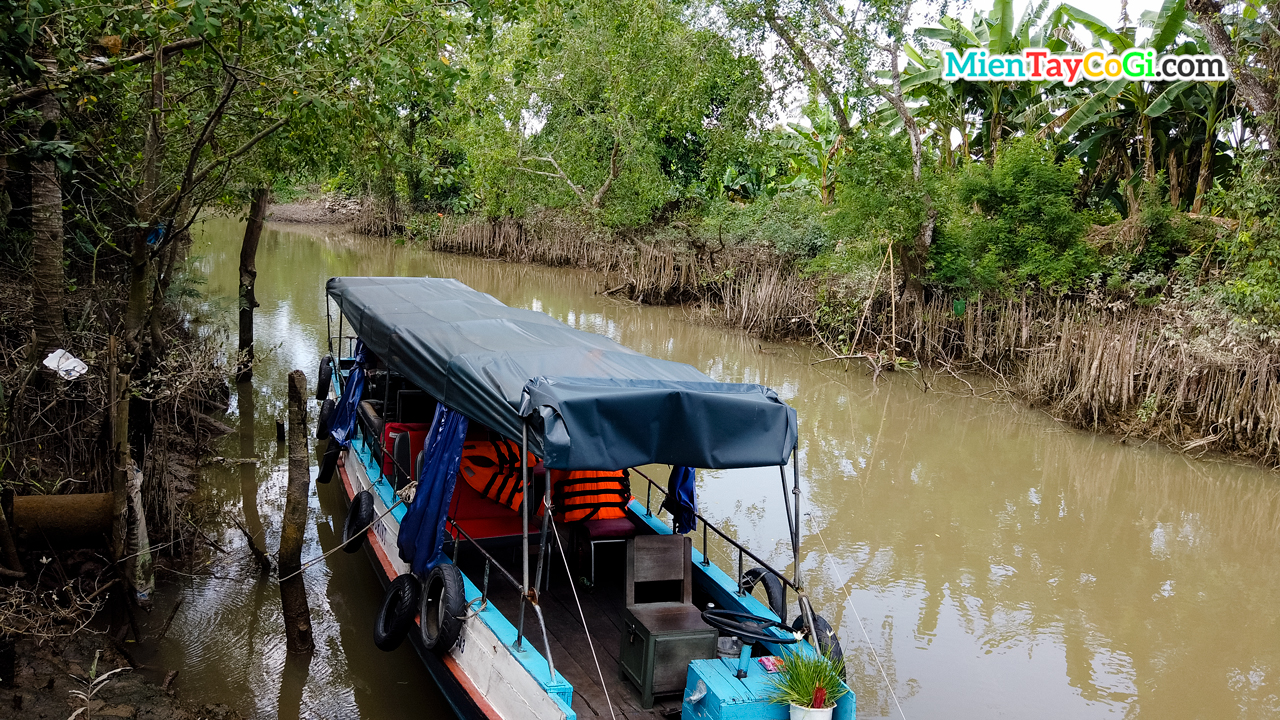 Take the road through Tra On – Vinh Long
If traveling by road from Can Tho, it will take about 20km to go to Rach Chanh ferry or 40km to Tra On – Cai Con ferry. Then take a ferry to cross the river to come here. You should take the Rach Chanh ferry to be closer to the tourist attraction of May Island Tam Trong (The main tourist spot in this place today).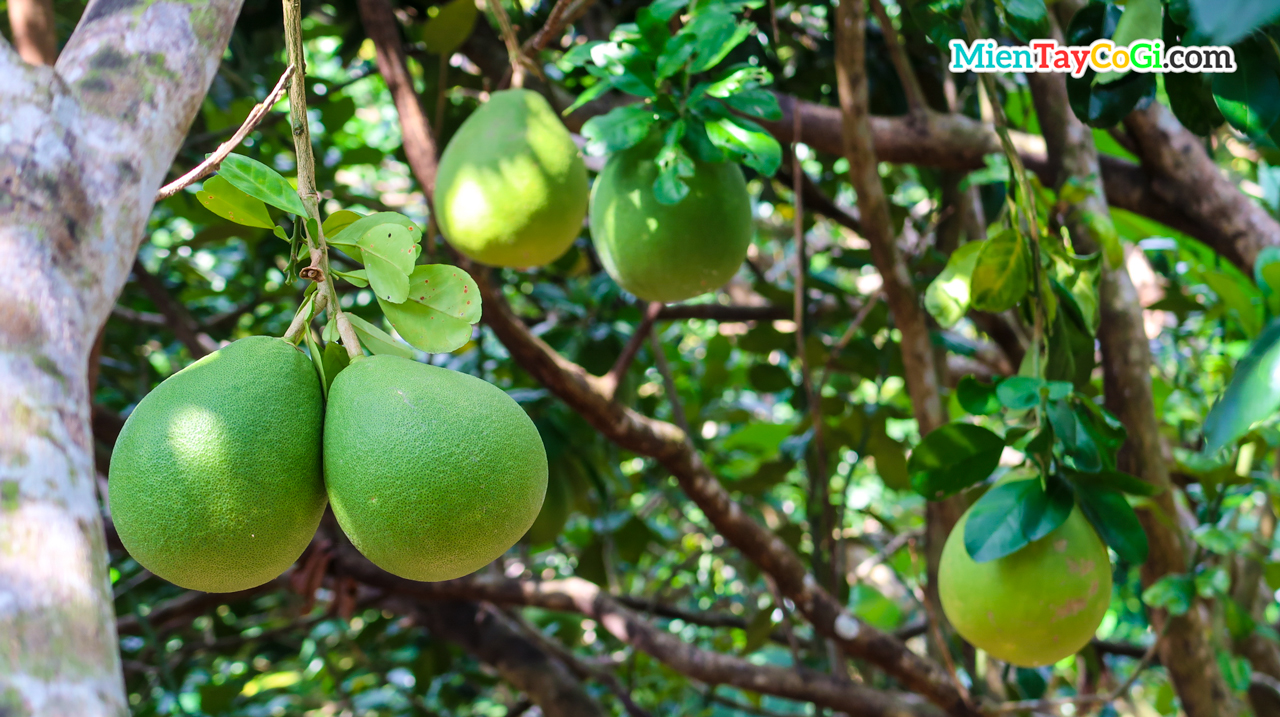 Note that 4-wheel vehicles will be very difficult to cross the ferry and absolutely cannot take the small section from the pier to this resort.
Refer to Google Maps address of Rach Chanh ferry to May island.
Address: Dong Thanh, Binh Minh, Vinh Long, Vietnam
Refer to how to go, review other tourist attractions in Can Tho:
Lung Ngoc Hoang Hau Giang.
Traveler reviews of May island
Hien tran assessed 5/5: "The place worth visiting when you come to Can Tho, this place is in Vinh Long but when you go to Can Tho, stop by (15km from Can Tho) You cross Luc Si ferry to Hau river (River) as big as the Sea :)), there are many fruits like grapefruit, mangosteen (August); Rambutan (September); milk apple (November to January next year), when you come to remember to enjoy chicken, (the chicken here is free to go under the orchard and drink river water so the chicken is sweet and soft,), there Specialties dew-fried rice paper. You come and feel."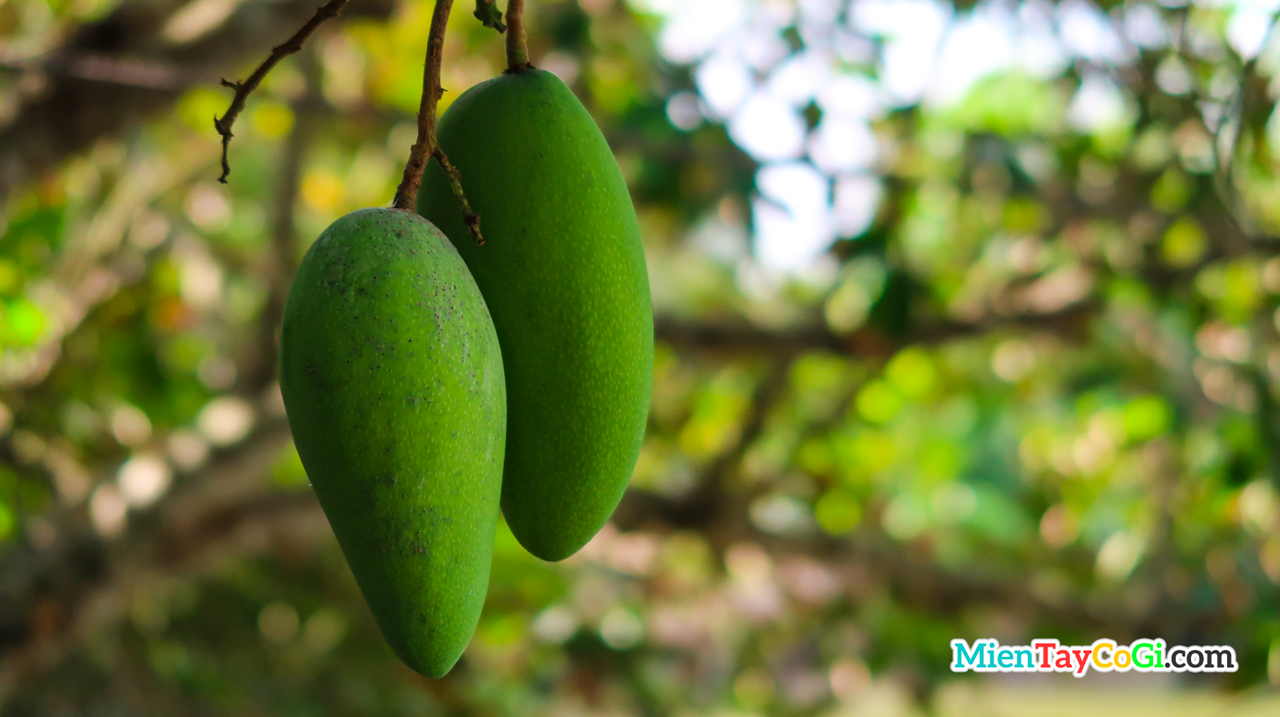 Hình 14: Mango
Thuan Banh Xeo Vlog evaluated 4/5: "Wonderful dawn".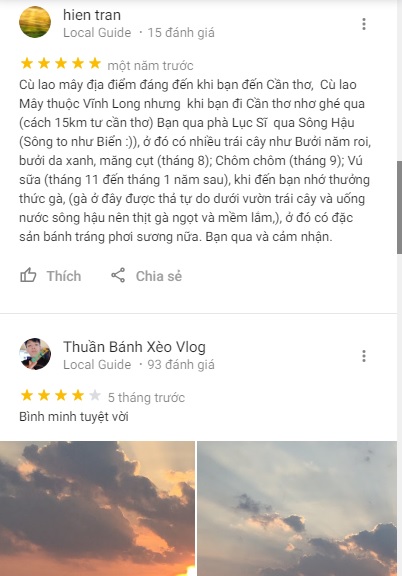 History of May island
This place is also known as Luc Si Thanh island. It consists of 4000ha of land between the colonial rivers part 2 of the communes Luc Si Thanh and Phu Thanh.
Why is it called May island?
In the mid-18th century, Nguyen Anh fled Tay Son army down Hau river to the sea. He stopped at this islet and took refuge. Because at that time, seeing from the island, the island was like a cloud, so he named it Van Chau. With the meaning of Van is cloud and Chau is the islet land.
Later a revolutionary soldier died here. The government then named the islet Luc Si Thanh. Take the name of the soldier to acknowledge his thanks.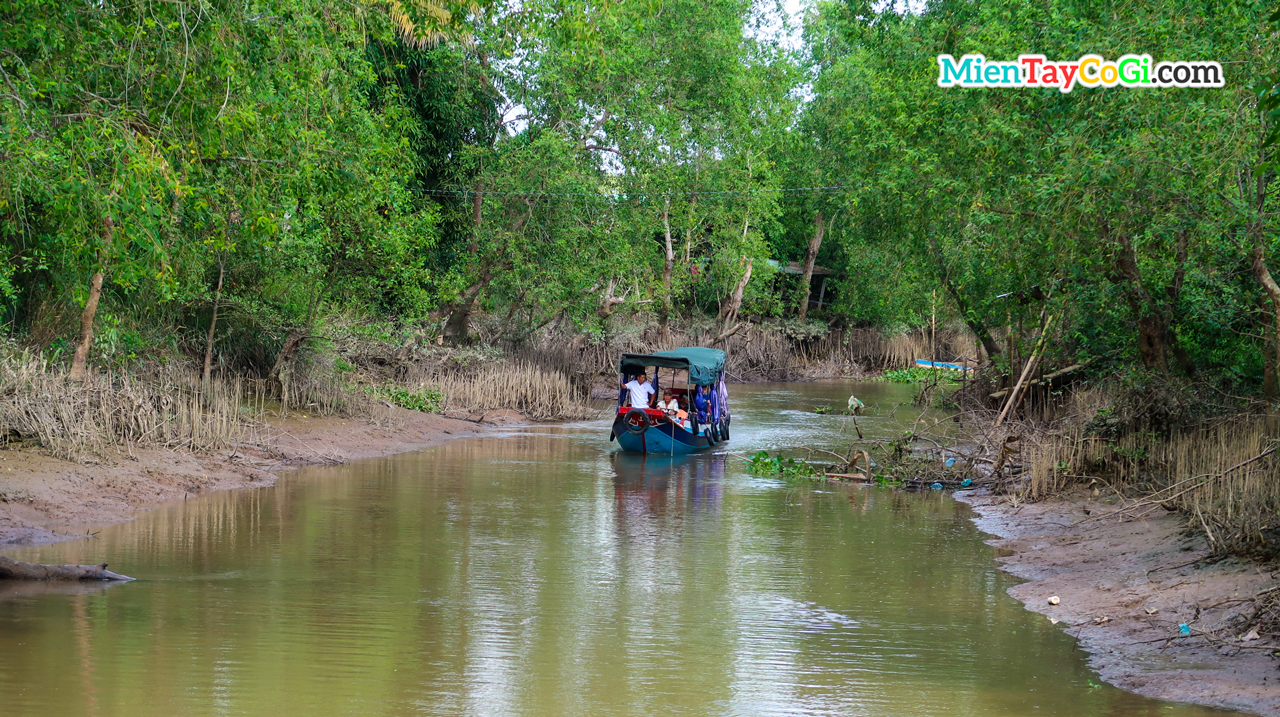 History
AT THAT TIME, THE ISLE ISLAND WAS IN CAN THO AREA. BECAUSE OF ITS ASSOCIATION WITH THE LOCATION OF GIA LONG KING, THE ISLAND IS CONSIDERED IMPORTANT. TU DUC KING ORDAINED THE THREE COMMUNAL HOUSES HERE AS THE TUTELARY DEITY IN 1852. HOWEVER, ONLY ONE ARCHITECTURE OF THE COMMUNAL HOUSE IS CURRENTLY COMPLETED.

AT THE BEGINNING OF THE 20TH CENTURY, FRANCE DUG A CANAL ACROSS THE ISLET INTO 2 VILLAGES. HOWEVER, IN 1940, THE TWO VILLAGES WERE UNITED INTO ONE COMMUNE.

IN 1994, IT WAS AGAIN DIVIDED INTO TWO COMMUNES, PHU THANH AND THE MAINLAND.

Wikipedia
Let's capture all about Can Tho tourism with: A-Z Can Tho travel experience (Vietnamese).